Unlocking the Power of Data from Space
Our experts are creating a virtual encyclopedia of the physical world for the benefit of businesses, governments, and our planet. We provide actionable intelligence by fusing satellite imagery data with advanced statistics, machine learning, and industry expertise.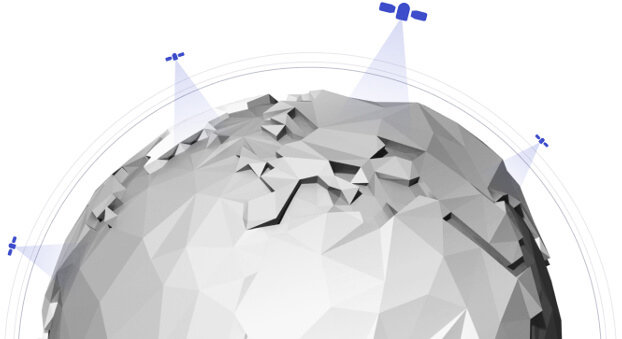 Soft Landing for the World Economy (SNN#28)
Economic Products
Leading indicators show a mix of optimistic growth potential and cautious recessionary signals. Unsupervised and supervised satellite activity indices provide predictive insights for the economies of the U.S., Germany, and China.
Steel Industry from Space (SNN#27)
Economic Products
The steel industry is experiencing fluctuations influenced by global economic conditions, supply disruptions, and evolving demand patterns. Spaceknow indices play a crucial role in detecting significant shifts in the steel industry's performance before official announcements are made.
The German Downturn: Analyzing Export Performance and Beyond (SNN#26)
Economic Products
Spaceknow's indices for Germany show a stumbling economy. These indices provide valuable insights and data for analyzing economic trends and performance, including manufacturing output, autos, services, retail sales, trade, new orders, and construction.
Disney's parks in Florida from Space
Economic Products
SpaceKnow's data can be used to track attendance in theme parks. Here we look at Disney's parks in Florida to see if there has been any impact from the current conflicts between the company and the state government.
Monitoring Tesla's Inventories (SNN#23)
Economic Products
SpaceKnow indices can track production and inventory rises for electric vehicle companies such as Tesla. Look at the final graph and table to understand how SpaceKnow uses its data to understand inventory build-ups.
India's Economic Landscape Unveiled: The Value of Satellite Data (SNN#22)
Economic Products
Discover Spaceknow's India package that contains various indices monitoring the Indian economy and can help customers analyze and predict Indian macroeconomic indicators.
Russian Truck Stops (SNN#21)
Defense & Intelligence
Spaceknow's Truck Stop dataset provides insights into the economic activity and logistics lines of the Russian army in the ongoing conflict with Ukraine, as well as the impact of Western sanctions on different regions, highlighting the importance of understanding economic nuances in a complex geopolitical environment. 
Unlocking the Power of Publicly Available SAR Data for Tropical Forest Conservation
Environment & Utilities
Satellite intelligence plays an integral part in monitoring forests. Academics and businesses are advancing various satellite analytics solutions that help in forestry management, detection of illegal logging, tracking carbon credits, or evaluating environmental changes in specific regions
Satellite Activity Data Reveals Mixed Trends in Chinese Economy: Retail Sales Rise, Property Market Falls (SNN#20)
Economic Products
SpaceKnow investigates Chinese retail sales and Chinese housing price trends using China Retail Parking Index and China Cement Storage Index.
Monitoring the French economy from Space (SNN#19)
Economic Products
SpaceKnow France Nowcasting Insights help our customers track economic growth in important sectors like consumer spending, housing, and exports.
Using SpaceKnow data to track US construction activity (SNN#18)
Construction & Real Estate
SpaceKnow indices can be used to track US Building Permits, Housing Starts, and non-residential construction spending. Our indices recovered slightly in Q4 2022, suggesting that the outlook for the US construction industry is improving from weak conditions last year.
Chinese Car Industry from Space (SNN#17)
Economic Products
SpaceKnow's Chinese Automotive dataset provides an in-depth look at the leading automotive market of the world.
Growth Risks in South Africa (SNN#16)
Economic Products
As central banks raise rates around the globe to ward off inflation, risks of a recession are rising. Business owners and consumers alike want to know if a recession is coming, when it will arrive, and what the magnitude and length of the slowdown will be. SpaceKnow data monitors real-time activity on the ground in […]
Year in Review: 12 Charts That Mattered
Economic Products
12 Charts take you back in time and around the world. Each with a unique story to tell, derived from our satellite activity datasets.
How to keep track of US Inflation using SpaceKnow Supply Chain Indicators (SNN#14)
Economic Products
SpaceKnow has several indices to observe activity and demand at US ports. These indices lead us to believe that the congestion at ports is easing. 
How could Christmas spending look like in the US? (SNN#13)
Economic Products
SpaceKnow joins the discussion on this year's record Black Friday using our family of CFI indices for 4000+ logistics centers in the US.
How did China's provinces bounce back following the lockdowns? (SNN#12)
Economic Products
SpaceKnow monitors several industries in China from space. For this SNN, we study those industries by province. Our analysis suggests that full lockdowns have an immediate impact on consumer spending.
Amazon's Black Friday (SNN#11)
Economic Products
SpaceKnow's indices suggest that so far, Amazon's activity heading into the all-important Black Friday and Christmas spending season has been lackluster.
Are lower energy prices boosting European economic activity? (SNN#10)
Economic Products
Satellite data insights on what we're seeing in our Germany and Italy satellite activity data indices.
How the latest Russian migration can be tracked using satellite nowcasting indices (SNN#9)
Defense & Intelligence
Discover how satellite nowcasting indices help observe congestion on Russian roads and airports as Russians head for the borders.
Here's how to analyze Fedex's performance using satellite activity indices (SNN#8)
Economic Products
Discover SpaceKnow's analysis of activity seen from space for FedEx
How will the German economy react to energy rationing policies? A view from 🛰 (SNN#7)
Economic Products
September 14, 2022 Germany is closer to energy rationing as Europe heads into the winter season. Gazprom, the majority state-owned Russian gas company, did not restart gas flows from its main pipeline after the recent maintenance period. During the summer, demand for gas was seasonally lower due to the hot weather allowing storage to build […]
What's happening in the Russian cement industry? SNN#6
Construction & Real Estate
Satellite analysis on the Russian cement industry. As Russia stops sharing public cement production data, SpaceKnow is able to close the data gap with its nowcasting activity indices.
Why did China cut rates? A View from Space SNN#5
Construction & Real Estate
China's economy will have its slowest pace of growth in years, due to a deflating property bubble, zero-tolerance Covid lockdowns and now, a heat wave. SpaceKnow tracks physical locations daily to provide actionable information.
Is Russia flaring gas near Nord Stream 1? SNN#4
Energy & Commodities
Welcome back to the SpaceKnow Nowcasting Newsletter (SNN) where we deliver insights derived from satellite activity datasets. Let's jump into what we're seeing at Nord Stream 1.  Portovoya Nord Stream 1 Compressor Station shows declining heat activity since Russian gas pipeline flows were limited in June 2022. The neighboring LNG Export Terminal has been flaring […]
Ship Detection from Space: Why is SAR data analysis so important for maritime ecosystems?
Economic Products
SpaceKnow recently started a project with ESA to improve the analysis of high resolution SAR imagery for ship detection. Discover the satellites that can see through clouds and at night to make sea activity more transparent and safer.
GEMSTONE: Powerful insights into the world's economic activity at your fingertips
Economic Products
Together with our partners at ESA, the GEMSTONE project was undertaken to expand the commercial nowcasting capabilities of SpaceKnow.
Here we go again: China vs Covid-19. Satellite data capture hard lockdowns. #SNN2
Economic Products
SpaceKnow's data derived from satellite imagery provides an exclusive early perspective on current economic trends in China.
How healthy is the German Economy? Satellite data joins the discussion. #SNN1
Economic Products
SpaceKnow's data derived from satellite imagery provides an exclusive early perspective on current economic trends in Germany.
Persistent monitoring of military activity: Russia-Ukraine border use case
Defense & Intelligence
Recent developments in the geopolitical arena surrounding Ukraine, Russia, and NATO have drawn the attention of intelligence analysts and companies providing assessments of the latest Russian military movements in the context of a potential escalation. Because the conflict has been going on since 2014, there are many well-known locations used as staging areas for the […]
Products
We process data from multiple space-based sensors to bring you independent and near real-time insights. Our proprietary algorithms are disrupting the following sectors:
Partnering with Industry Leaders








Developing Award-winning Products

Gartner Cool Vendor
in AI Core Technologies 2021

IDEX UAE 2023
Best innovative company in defence sector award

CZECH TOP 100
Award for excellence and innovation in defence sector
Stay light years ahead of the competition.