12 Charts take you back in time and around the world.
Each with a unique story to tell, derived from our satellite activity datasets. 
SpaceKnow provides near-real-time insights on global economic, social, security, and environmental trends utilizing satellite data. Our free (and short) weekly newsletter tracks uncommon movements in the 150,000+ sites we monitor via satellite. Sign up here.
2022 was a very active year, with several events seen across the globe from space. We've covered a lot, from supply chain interruptions, inflation, and energy crises to Chinese lockdowns. Let's look back on what we saw last year.
Utilizing our China Nowcasting Package, which comprises more than fifty distinct activity indices covering several industries and frequently incorporating province-specific data, we prepared three newsletters specifically focused on China.
SpaceKnow's airport, port, and logistic center-specific indices began tracking the effect of new lockdowns in April. Spaceknow came to the conclusion after looking at the indices that the impact of these lockdowns was less severe than the impact of the initial lockdowns in 2020.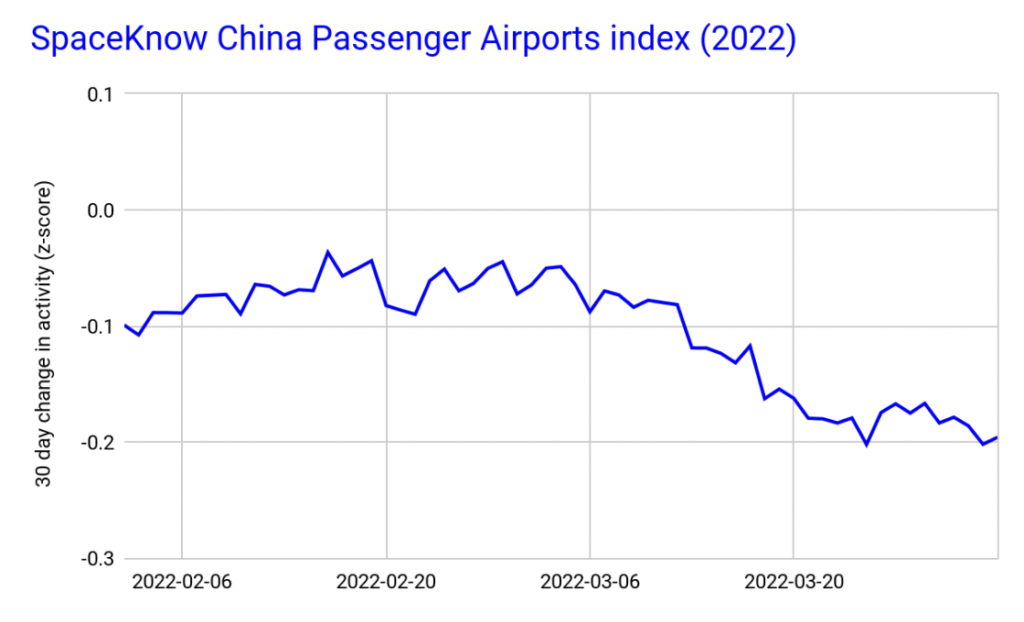 Following the announcement that China's central bank had lowered the one-year and seven-day loan rates by 10 basis points, we revisited our Chinese indices in October. The near-real-time fall throughout the year was seen using SpaceKnow's construction, retail, steel refinery, and logistics center-related indices, validating the central bank's policies.
We continue to monitor these indices for signs of recovery and potential negative spill-over into the manufacturing industries. There may be a good reason to be wary of Chinese auto production this coming year as SpaceKnow's China Auto Parts index has shown a steady decline over the last two months…
The last piece we wrote on China in 2022 was related to the renewed lockdowns at the end of the year broken down per province. Using our China logistics centers and assembled car index on the province level, we saw an immediate impact on consumer spending, and expected it to bounce back shortly, once the lockdowns were lifted, as they did.
We monitor economic activity globally, not just in China. We wrote newsletters covering activities observed at US supply chain champions: Amazon, Walmart, and FedEx. All are part of SpaceKnow's premium US Supply Chain package. 
In August, by monitoring and aggregating the activity from every logistic center used by Walmart, clients with access to the Walmart dataset would have been the first to see disruptions in the company's activity. We also showed that the index correlates well with Walmart's costs of goods sold.
In September, when FedEx's stock price dropped significantly following its missed forecast. Much like Walmart, we monitor all of the relevant locations. As a result, we can't say we're surprised, just look at the graph below. It shows fewer FedEx locations showing high activity, and a strong increase in FedEx locations showing low activity, the perfect recipe for disaster. Safe to say SpaceKnow's indices can help to anticipate and analyze similar situations while not relying on a company's reporting.
In November, back when we were all thinking of Black Friday deals, we took a look at the Amazon dataset. Amazon has a strong and ever-growing presence in the US, which makes it an important indicator of retail sales. The impact of rising inflation paired with higher energy prices was reflected in Amazon's activity index, showing weak consumer spending.
In December, we joined the discussion on this year's "record" Black Friday using our family of Continous Feed Indices (CFI) indices for 4000+ logistics centers in the US. Black Friday 2022 wasn't only a result of increasing prices but a genuine increase in retail volume activity.
We also used the indices to document changes in the US logistics sector – it adapted to the COVID experience by building more logistics centers and shifting towards a more gradual way of dealing with seasonal inventory.
Lastly, on the topic of supply chains and logistics in the US, we had to have our say on inflation. SpaceKnow's port and inland container activity indices as well as the logistics indices can provide insights on the matter. Looking at these indices we saw significant signs of easing in our logistics data, but we cannot yet call for a significant persistent slowdown. Therefore, while it is one factor potentially pointing to an easing in inflation, other factors are pushing inflation higher. 
2022 also brought us newly released indices focusing on economic activity in Russia, Germany, Italy, Spain, and France.
In April, SpaceKnow released data showing a stumbling German economy, weeks before official data confirmed the fact. SpaceKnow monitors over 1000 locations in Germany on a near-real-time basis. When a sudden shock hits the economy, our activity data gives you an early look at the impact. We saw the German manufacturing index get hit hard by a combination of increasing prices for raw materials and energy, supply chain pressures, and expectations of future shortages.
In September, we saw the disappearance of public Russian cement production data. Luckily, SpaceKnow's Russian Cement Refinery and Storage indices were there to fill the information gap. SpaceKnow Cement Refinery Index showed that cement production had been increasing since February 2022 because of the government's act on imports. On the other hand, the Cement Storage Index had been declining since the beginning of 2022, suggesting that inventories of cement were depleting. Recent Russian data claimed the economy was performing better than expected, however, the market is suspicious about the reliability of current data released by the government statistical agency. If only there was a reliable source of unbiased activity data…  
Also in September, as Germany began energy rationing, SpaceKnow's German Coal Mine Index, which captures the activity in the mines where the coal is extracted, sharply increased. Similar developments were seen in the Steel Manufacturing and Aluminum refinery indices.
In November, energy prices fell and it seemed like Europe's energy crisis was over. Despite this, SpaceKnow's Italian Manufacturing index remained weak, but we did see a small rebound in German construction activity. The index is most likely capturing the positive effect of the recent gas price decline – which fell below 100 EUR per megawatt-hour after reaching record highs at the end of August, due to warmer-than-expected temperatures.
Looking forward, SpaceKnow's product line of activity indices, also known as nowcasting datasets, will continue to expand and cover further economic activity as seen from space.
We've loved the support we've received from our newsletters and blogs and are excited to continue sharing insights from our satellite activity datasets. Don't hesitate to share widely and subscribe.
Thank you for reading.
Stay safe,
The SpaceKnow Team.
Disclaimer
This report is provided by SpaceKnow, Inc. ("SpaceKnow") pursuant to the following terms and conditions:
Industry data and reports published by SpaceKnow ("SpaceKnow Reports") and made available to paid subscribers and/or other recipients (collectively "Recipients") are creative works of the mind achieved through algorithmic analysis of publicly available data and the information therein is proprietary to SpaceKnow and protected by copyright. Any copying, distribution or reproduction without the prior permission of SpaceKnow is strictly prohibited.
SpaceKnow Reports are confidential and nothing therein may be disclosed, reproduced, transmitted, distributed, sold, licensed, or altered, in whole or in part, without SpaceKnow's prior written consent. SpaceKnow reserves the right to release to the public at any time the data and reports provided to Recipients. No rights in SpaceKnow Reports or any of the information contained therein are transferred to Recipients. Any misappropriation or misuse of the information in SpaceKnow Reports will cause serious damage to SpaceKnow and money damages may not constitute sufficient compensation to SpaceKnow; consequently, Recipients agree that in the event of any misappropriation or misuse, SpaceKnow shall have the right to obtain injunctive relief in addition to any other legal or financial remedies to which SpaceKnow may be entitled.
SpaceKnow Reports are based only upon its algorithmic analysis of publicly available data and do not use or rely upon any material non-public information ("MNPI"). The insights included in SpaceKnow Reports do not constitute MNPI or inside information and SpaceKnow is not an insider. SpaceKnow Reports (1) may contain opinions based on third party sources that are not independently verified for accuracy or completeness, (2) may contain forward- looking statements, which are identified by words such as "expects," "anticipates," "believes," or "estimates," and similar expressions, and (3) are current as of the date of publication but may contain information or statements that are subject to change without notice. SpaceKnow has no obligation to, and will not, update any information contained in SpaceKnow Reports. Actual outcomes could differ materially from those anticipated in SpaceKnow Reports. As a result, the use of SpaceKnow Reports is at Recipients' own risk.
SpaceKnow and its owners, affiliates and representatives are not (1) investment advisers, commodity trading advisers, broker-dealers, financial analysts, financial planners, or banks, (2) compensated for providing investment advice, (3) registered or licensed with any regulatory body in any jurisdiction as investment advisers, commodity trading advisers, financial planners, broker-dealers, or in any other capacity (including, without limitation, the U.S. Securities & Exchange Commission (the "SEC"), the U.S. Commodity Futures Trading Commission (the "CFTC"), the U.S. Financial Regulatory Authority ("FINRA"), or their equivalents in non- U.S. jurisdictions), and do not recommend the sale or purchase of securities or commodity interests, or (4) licensed or able to provide investment advice or respond to individual requests for recommendations to purchase or sell any securities or commodity interests. No regulatory body in any jurisdiction (including the SEC, CFTC, FINRA, or a regulatory body of any state or any non-U.S. jurisdiction) has endorsed SpaceKnow or the contents of SpaceKnow Reports or the accuracy, adequacy, safety, reliability, usefulness, quality or legitimacy of any information provided to subscribers in SpaceKnowReports. SpaceKnow Reports are not intended to constitute investment advice. SpaceKnow is not an investment adviser within the meaning of Section 202(a)(11) of the U.S. Investment Advisers Act of 1940, as amended, and is not a commodity trading adviser within the meaning of Section 1(a)(12) of the U.S. Commodity Exchange Act. SpaceKnow does not provide investment advisory, portfolio management or financial planning services. The analyses, forecasts, metrics, samples, estimated figures, trends, figures, tables, graphs, projections and other forms of data that may be contained in SpaceKnow Reports do not represent or contain any recommendations to buy or sell any security or any financial products and should not be relied upon as the basis for any transactions in securities.
SpaceKnow Reports are for informational, promotional, educational or evaluation purposes only. Any information contained in SpaceKnow Reports constitutes the opinion or forward-looking statement of individuals and is provided without any representation or warranty of any kind. Neither SpaceKnow nor its directors, officers, employees, agents or representatives shall have any responsibility to you or any third party for the accuracy or completeness of any information provided in any SpaceKnow Report.
Should you have any questions, please contact us at SKNowcastingSolutions@spaceknow.com.