Summary:
SpaceKnow investigates Chinese retail sales and Chinese housing price trends using China Retail Parking Index and China Cement Storage Index.
More details:
In December 2022, the Chinese government ended the zero-covid policy that dominated the world's second-biggest economy for almost three years. As China was the key driver of world economic growth in the past decades, the speed of its recovery following the lockdowns matters.
Like many analysts, Spacknow monitors the Chinese economy closely. We have multiple datasets available on China's key sectors. These datasets or indices are derived from satellite activity data, not opinions.
Let's start with the positive, the latest available data for the January-February period point to recovery after the COVID period, with industrial production increasing by 2.4% compared to last year. Retail sales also did well, increasing by 3.5 percent and recovering from a drop in December. Figure 1 shows the Spaceknow Retail Parking Index, which tracks cars in parking areas next to shopping malls. The index closely matches the changes in retail sales in China. Both indices are seen rising, however, the Spaceknow index is not leaving the negative territory… This may be due to the rising importance of online sales, which our index does not capture. We do track logistics locations in China which can help track online purchases.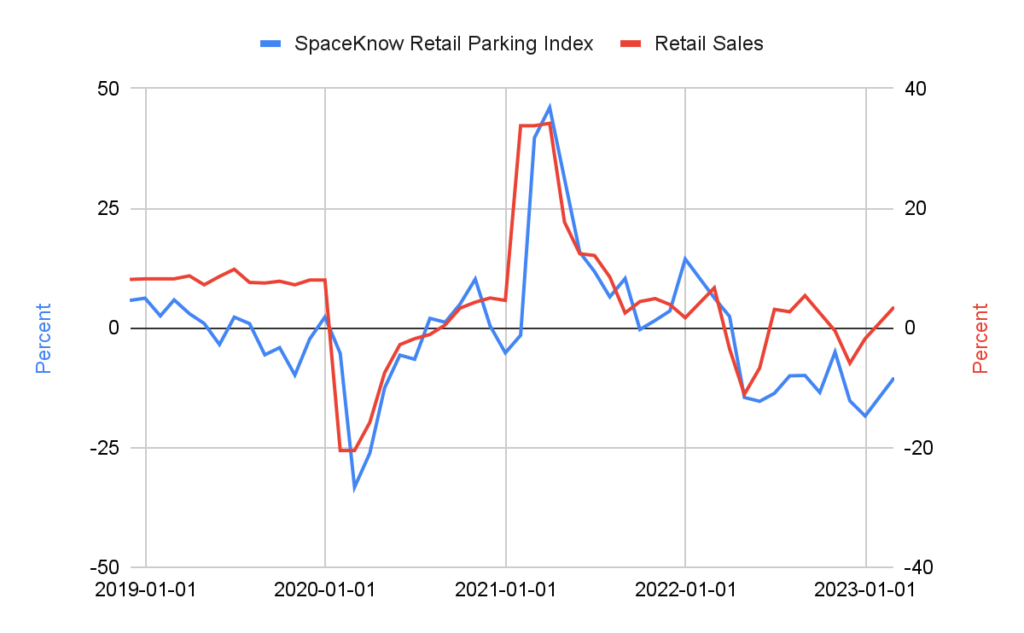 On the other hand, the Chinese government sets its lowest GDP growth target in decades, just 5%. A possible explanation could be the Chinese economy missing its growth forecast of 5.5 percent last year. In reality, the strict lockdowns brought growth down to only 3% in 2021.
A clear candidate for China's most troubled sector of the economy last year is the property market. Chinese developers, heavily reliant on presales of unfinished housing, came under pressure following last year's regulatory tightening. The sector remains in trouble, with falling investment and downward pressure on house prices. This is also visible in Figure 2 below, showing changes in house prices in 70 Chinese major cities, staying in the negative territory for several months. The Figure also shows that Spaceknow's Cement Manufacturing Index is able to follow the Housing Price Index.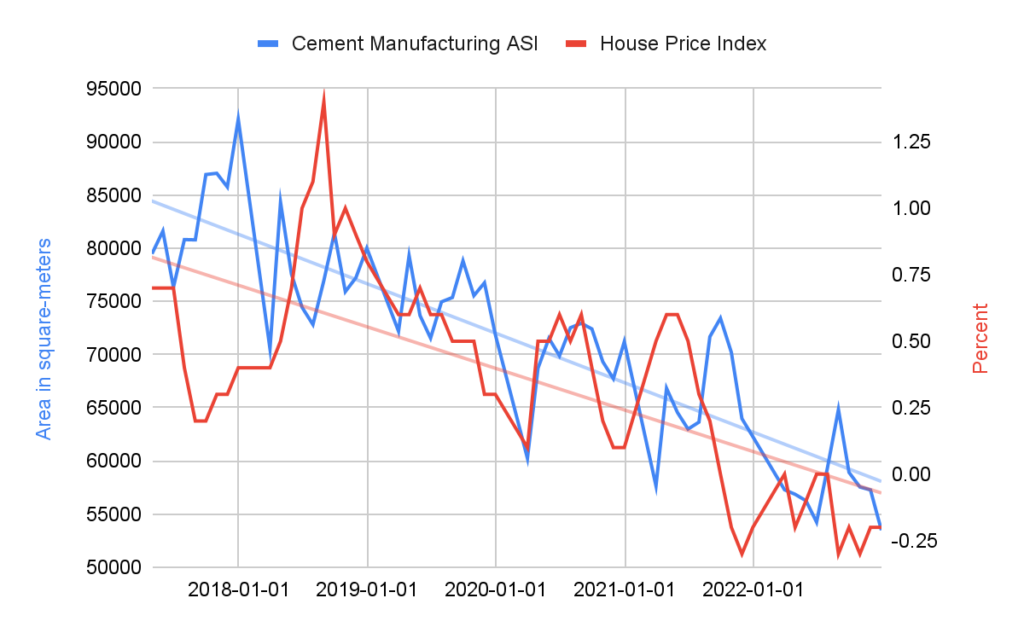 Above we have shown two examples from Spaceknow's growing list of satellite-based indices mapping the world's second-biggest economy, from car manufacturing to coal production. We selected the indices above because they document conflicting evidence from the Chinese economy – rising retail sales and a falling property market.
We will keep watching the Chinese economy closely and bring new insights as the Chinese post-Covid future becomes more evident. Until then, if near-real-time insights derived from satellite data matter to your organization, consider subscribing to our indices today.
Thank you for your reading.
Did you find this article interesting? Share it with a friend or colleague.
Disclaimer
This report is provided by SpaceKnow, Inc. ("SpaceKnow") pursuant to the following terms and conditions:
Industry data and reports published by SpaceKnow ("SpaceKnow Reports") and made available to paid subscribers and/or other recipients (collectively "Recipients") are creative works of the mind achieved through algorithmic analysis of publicly available data and the information therein is proprietary to SpaceKnow and protected by copyright. Any copying, distribution or reproduction without the prior permission of SpaceKnow is strictly prohibited.
SpaceKnow Reports are confidential and nothing therein may be disclosed, reproduced, transmitted, distributed, sold, licensed, or altered, in whole or in part, without SpaceKnow's prior written consent. SpaceKnow reserves the right to release to the public at any time the data and reports provided to Recipients. No rights in SpaceKnow Reports or any of the information contained therein are transferred to Recipients. Any misappropriation or misuse of the information in SpaceKnow Reports will cause serious damage to SpaceKnow and money damages may not constitute sufficient compensation to SpaceKnow; consequently, Recipients agree that in the event of any misappropriation or misuse, SpaceKnow shall have the right to obtain injunctive relief in addition to any other legal or financial remedies to which SpaceKnow may be entitled.
SpaceKnow Reports are based only upon its algorithmic analysis of publicly available data and do not use or rely upon any material non-public information ("MNPI"). The insights included in SpaceKnow Reports do not constitute MNPI or inside information and SpaceKnow is not an insider. SpaceKnow Reports (1) may contain opinions based on third party sources that are not independently verified for accuracy or completeness, (2) may contain forward- looking statements, which are identified by words such as "expects," "anticipates," "believes," or "estimates," and similar expressions, and (3) are current as of the date of publication but may contain information or statements that are subject to change without notice. SpaceKnow has no obligation to, and will not, update any information contained in SpaceKnow Reports. Actual outcomes could differ materially from those anticipated in SpaceKnow Reports. As a result, the use of SpaceKnow Reports is at Recipients' own risk.
SpaceKnow and its owners, affiliates and representatives are not (1) investment advisers, commodity trading advisers, broker-dealers, financial analysts, financial planners, or banks, (2) compensated for providing investment advice, (3) registered or licensed with any regulatory body in any jurisdiction as investment advisers, commodity trading advisers, financial planners, broker-dealers, or in any other capacity (including, without limitation, the U.S. Securities & Exchange Commission (the "SEC"), the U.S. Commodity Futures Trading Commission (the "CFTC"), the U.S. Financial Regulatory Authority ("FINRA"), or their equivalents in non- U.S. jurisdictions), and do not recommend the sale or purchase of securities or commodity interests, or (4) licensed or able to provide investment advice or respond to individual requests for recommendations to purchase or sell any securities or commodity interests. No regulatory body in any jurisdiction (including the SEC, CFTC, FINRA, or a regulatory body of any state or any non-U.S. jurisdiction) has endorsed SpaceKnow or the contents of SpaceKnow Reports or the accuracy, adequacy, safety, reliability, usefulness, quality or legitimacy of any information provided to subscribers in SpaceKnowReports. SpaceKnow Reports are not intended to constitute investment advice. SpaceKnow is not an investment adviser within the meaning of Section 202(a)(11) of the U.S. Investment Advisers Act of 1940, as amended, and is not a commodity trading adviser within the meaning of Section 1(a)(12) of the U.S. Commodity Exchange Act. SpaceKnow does not provide investment advisory, portfolio management or financial planning services. The analyses, forecasts, metrics, samples, estimated figures, trends, figures, tables, graphs, projections and other forms of data that may be contained in SpaceKnow Reports do not represent or contain any recommendations to buy or sell any security or any financial products and should not be relied upon as the basis for any transactions in securities.
SpaceKnow Reports are for informational, promotional, educational or evaluation purposes only. Any information contained in SpaceKnow Reports constitutes the opinion or forward-looking statement of individuals and is provided without any representation or warranty of any kind. Neither SpaceKnow nor its directors, officers, employees, agents or representatives shall have any responsibility to you or any third party for the accuracy or completeness of any information provided in any SpaceKnow Report.
Should you have any questions, please contact us at SKNowcastingSolutions@spaceknow.com.