Russia discontinues the dissemination of cement production data. SpaceKnow's cement activity index shows increasing production and diminishing inventory levels.
Let's dive into what we're seeing in Russia:
SpaceKnow has launched new indices covering Russia's cement industry and the operations of one of the biggest suppliers of cement in Russia, "Eurocement". These indices will be available shortly and are part of our overall initiative to provide insight into Russia's economy using satellite data.
Later this year, SpaceKnow will release a complete dataset on Russia's economy. Customers will be able to observe the impact of sanctions and the rise of global inflation on several different sectors in near-real time.
The cement country-level indices monitor 163 locations run by 18 different companies in the sector. Our indices are separated by activity: cement refineries and storage. Four different types of indices are estimated at the country level and for Eurocement. 
According to Global Cement, last year, the production of cement increased because of government-funded infrastructure projects and domestic housing demands. Russia's cement consumption was above production for the last few years and this caused cement prices to rise. Therefore, as of the end of January 2022, the Russian government relaxed inspection controls for cement imports from countries outside the Eurasian Economic Union (EAEU). Based on a study by the Ministry of Industry and Trade and Global Cement, Russia's cement industry operated with 62% utilization rate. The government is creating competition in the market by easing import regulations. This is a threat for national cement producers and one may expect that higher competition will persuade them to increase their capacity utilization.
However, as you can see in the graphs below, our data shows that production of cement has not changed much this year. Meanwhile, cement storage areas are seeing a drop in activity, implying a buildup of inventories. Could sanctions have caused construction and housing demand to slow in Russia, reducing the demand for cement?
Since Russia's invasion of Ukraine, data availability for the Russian economy has been reduced. In particular, we have noticed that cement production data was discontinued after 04/2021. However, our new indices fill the data gap and give our customers insight into real-time activity in the cement industry.
SpaceKnow Cement Refinery Index (non-seasonally adjusted) and Cement Storage Index (non-seasonally adjusted) are strongly correlated with cement production(NSA) in Russia. Please look at the graphs below for details.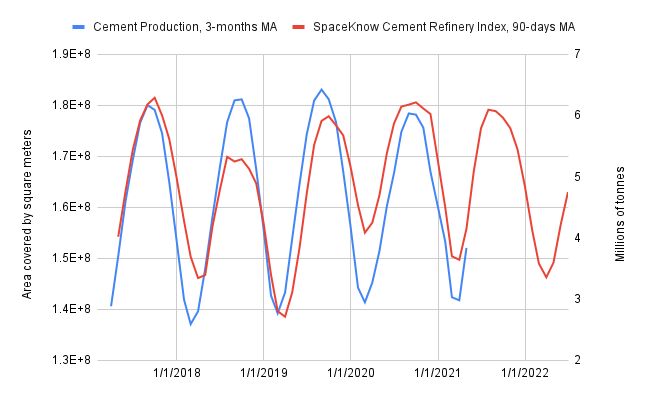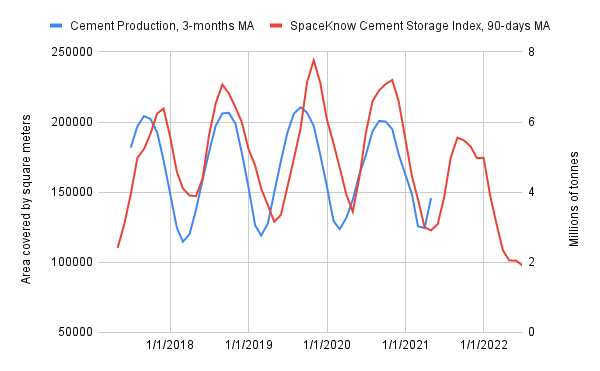 SpaceKnow Cement Refinery Index shows that the cement production has been increasing since February 2022 because of the government's act on imports. On the other hand, the SpaceKnow Cement Storage Index has been declining since the beginning of 2022, suggesting that inventories of cement are drawing down.
One possible explanation is that, despite competition and increased production, domestic demand is weak because of sanctions. Both consumer and business confidence indices are in negative territory, proving that economic agents are pessimistic about the future.
Recent data prints show that Russia's economy performed better than expected during the ongoing invasion. According to an article published by the Wall Street Journal, the market is suspicious about the reliability of current data releases by the governmental statistical agency. SpaceKnow indices can provide an unbiased, near-real-time view of the economy as seen from space.
Did you enjoy this article? Subscribe using this link, and be the first to receive the next SpaceKnow Nowcasting Newsletter (SNN).
Interested in learning more about SpaceKnow's commercial and nowcasting products? Reach out to insights@spaceknow.com.