Recent developments in the geopolitical arena surrounding Ukraine, Russia, and NATO have drawn the attention of intelligence analysts and companies providing assessments of the latest Russian military movements in the context of a potential escalation. Because the conflict has been going on since 2014, there are many well-known locations used as staging areas for the Russian forces during demonstrations of power and various exercises. Crimea is now controlled by the Russian Federation and Russian forces are being deployed there as well. In addition, under the public cover of a joint exercise, many crucial Russian assets have been deployed to Belarus, including highly sophisticated electronic warfare systems such as  Krasukha.
Using satellite imagery is one method of gaining an unbiased overview of the situation, and can be used to monitor sites of interest, and any unusual activities happening on the ground. Thanks to the proliferation of SAR satellites, the weather is no longer an issue and if the imagery is combined with optical imagery and fused with information and data from other sensors and sources (SIGINT, ELINT, Social Media), building up a comprehensive operational picture is easier than before.
At SpaceKnow, we strive to provide our customers with the maximum added value that automation and machine learning offer. We are at the forefront of pioneering new technologies and methods to leverage satellite imagery. Fusing SAR and optical data is a very practical approach with big potential. We also have the ability to detect and highlight activities and locations that have not been known before. It is primarily the "unknown", which is extremely important; SpaceKnow increasingly focuses on helping to shift the focus from analyzing events and locations that are well known to the realm of the undiscovered.
In this article, we showcase our AI/ML-based analytics platform by monitoring multiple locations of interest. Our analysts provide an interpretation of our monitoring activities performed over the last three months. In addition, the SpaceKnow team also focused on additional locations that have been used by Russian forces in the past years and analyzed if they are being used during current events as well. The main objective of the analysis is to show the value of insights derived from low and medium-resolution imagery in addition to the typically used high-resolution data.
For the purpose of this analysis, SpaceKnow has selected three locations – Yelena, Soloti, and training grounds in southern Crimea.
Yelna
Yelna is one of the locations that is being monitored with very high interest. In addition to the units normally stationed there, a significant amount of equipment has been deployed to the area since December last year. New motor pool emerged as more equipment arrived and even with the increasing snow cover (which has an adverse effect on algorithmic performance), the utilization of Sentinel-1 and Planet SkySat imagery provided much-needed alerts on time. Right from the beginning, we identified multiple new locations with various assets being present, due to the increase in RVI (Radar Vegetation Index) values derived from Sentinel-1 imagery, as well as by measuring changes on PlanetScope data. Once the change and RVI values are significantly above average for the location, we cued in high-resolution SkySat satellites to acquire imagery and perform automated object classification, providing visual confirmation of developments in the area.
Looking at the latest imagery from the last couple of days it is apparent that a large number of forces have left Yelna. This coincides with the openly admitted withdrawal of some Russian forces back to their bases in Russia.
SpaceKnow has been analyzing this location from the middle of December utilizing primarily Sentinel-1 SAR imagery, Planet medium resolution optical PlanetScope, and high resolution optical SkySat imagery to gain a full operational picture, notwithstanding the weather conditions.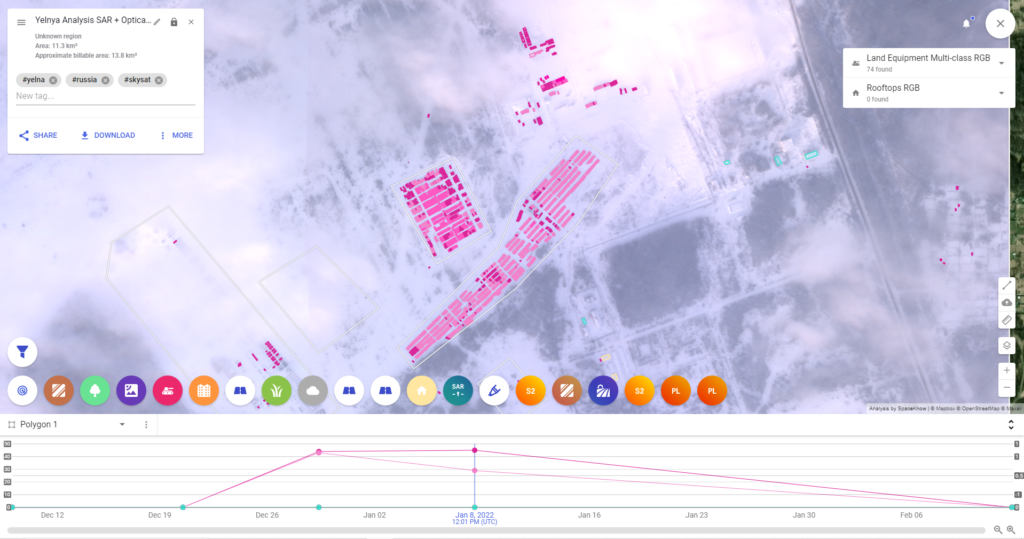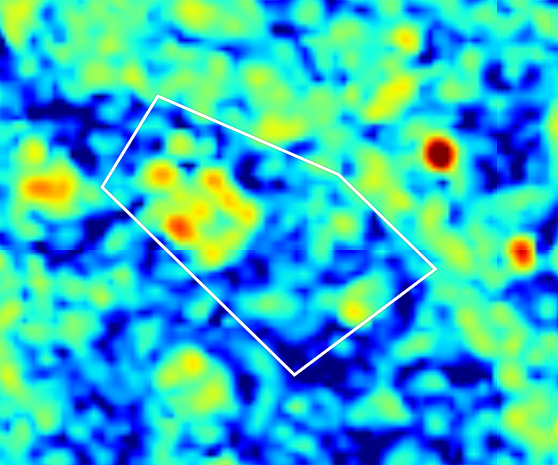 Soloti
Information about new construction in this area had already emerged in 2015. The assumption was that this is due to Russian intentions to better support incursion activities in Eastern Ukraine over a long-term horizon. The barracks, ammunition depots, and motor pools are still being built and reinforced not only near Soloti but elsewhere as well. 
A comparison with the temporary base built on the grounds of the former Valuyki Airbase nearby indicated that Soloti could be the new permanent base as well as a staging area for potential deployments in the vicinity of this location.
While some of the structures at Vayuki have been dismantled, in Soloti, SpaceKnow has been monitoring the construction activity of the base as well as the deployment of armed forces units. On the other hand, SpaceKnow detected new activity at Valuyiki in recent days including helicopters deployment suggesting this site still plays an important role.
During our analysis of this location from 2015 onwards, we were able to detect and track construction and deployment of forces using RVI on Sentinel-1 data, change detection and land equipment classification on medium resolution PlanetScope, and high-resolution SkySat data from Planet.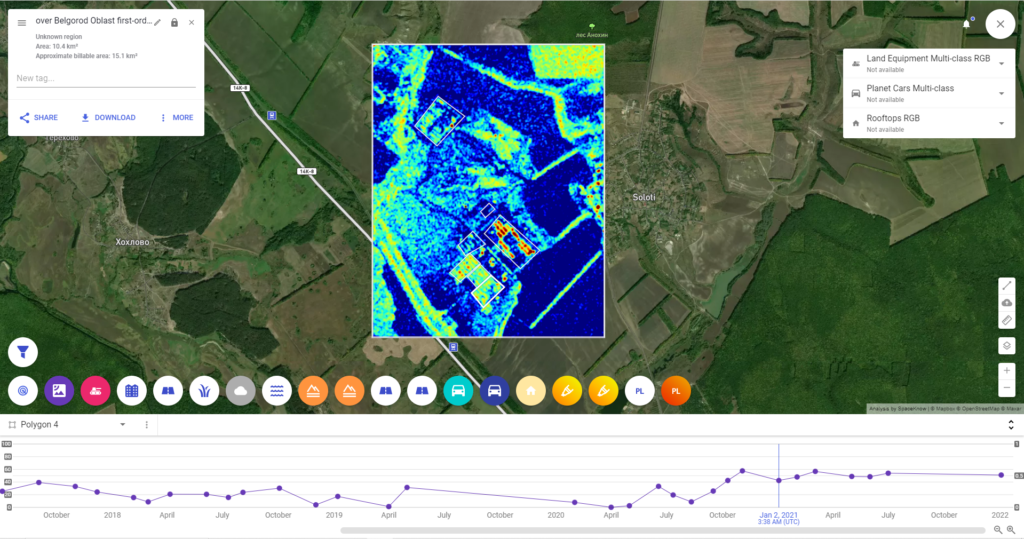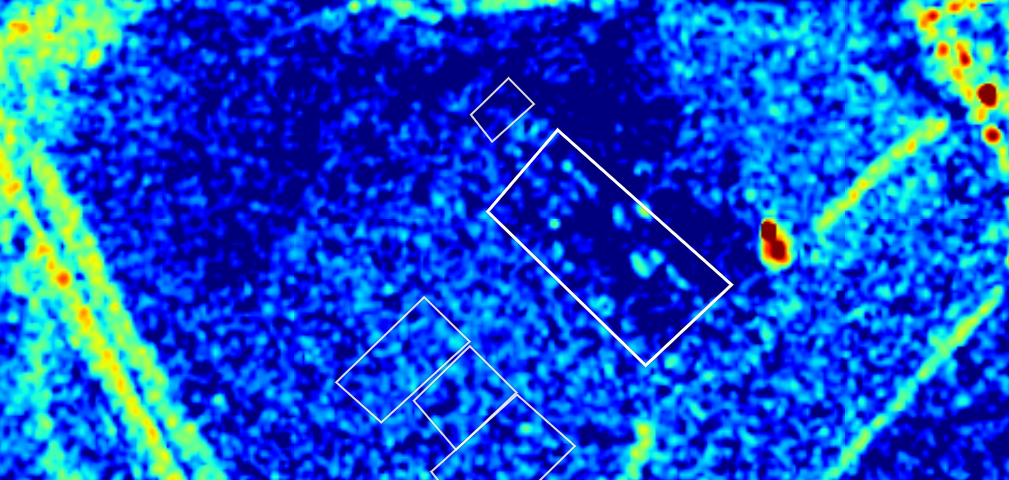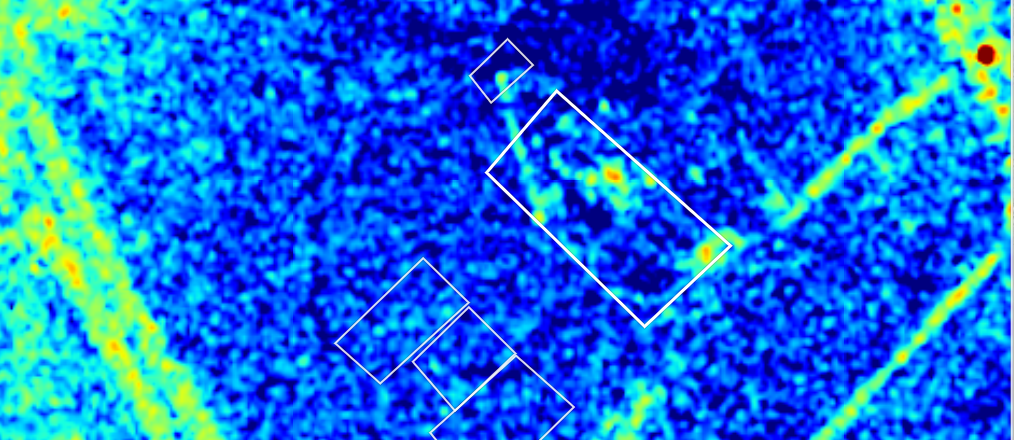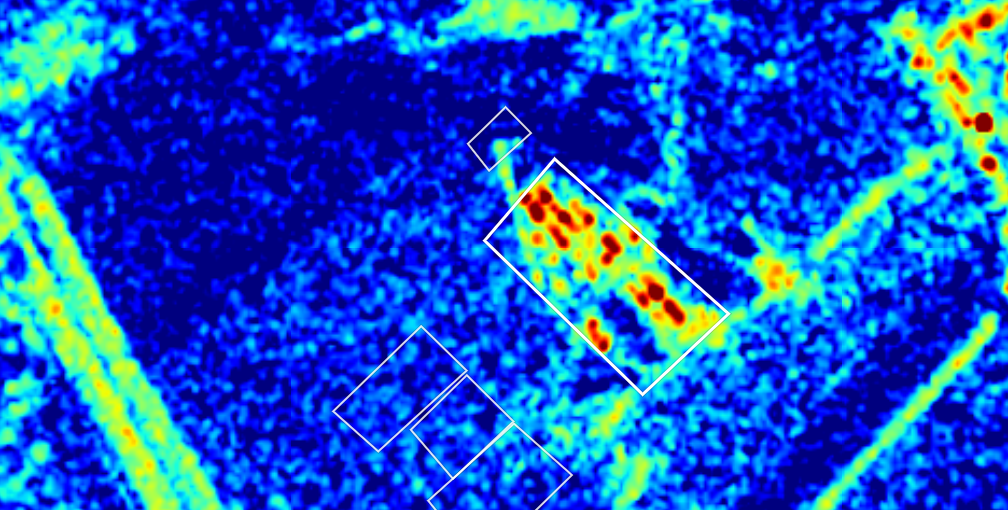 To further confirm and evaluate the nature of changes highlighted by the utilization of RVI on Sentinel-1 imagery, the most valuable option is to use medium resolution optical data from Planet which provides additional insight for low cost in comparison with high-resolution optical imagery. In case there is a need for long-term monitoring, the usual layout might be to use low-resolution data on a nearly daily basis, medium resolution on a weekly or bi-weekly basis, and high-resolution only if there is a strong indication of significant change or activity.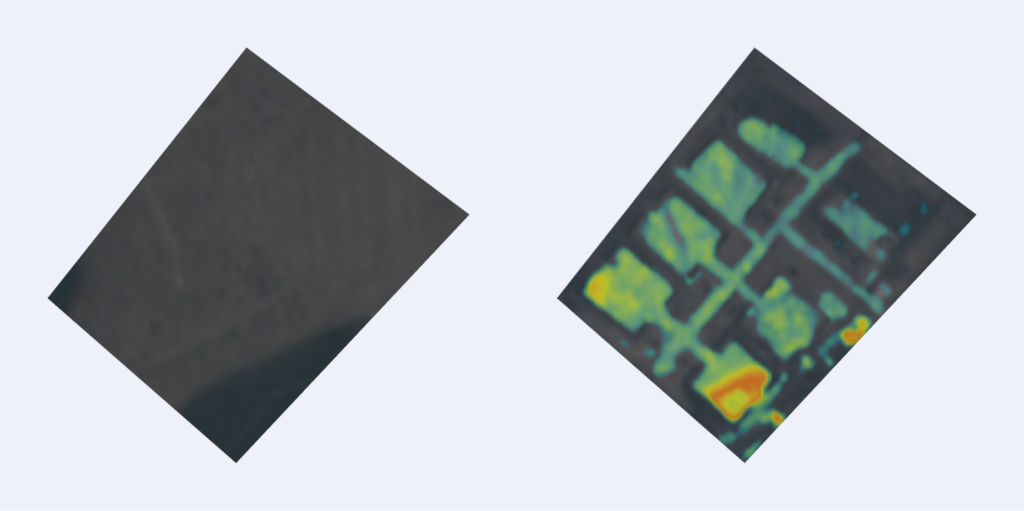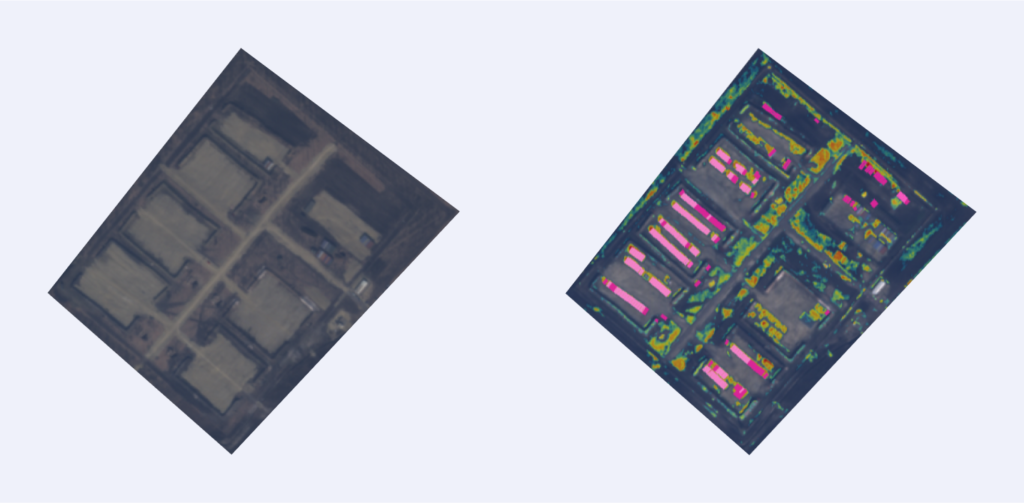 Crimea
Training grounds in the south of Crimea have been utilized many times in the past and although this particular location did not see any increased deployment in the last few months, it was heavily used in April 2021 during large-scale maneuvers of the Russian Armed Forces on the eastern flank of Ukraine.
SpaceKnow has been continuously monitoring the location utilizing Sentinel-1 SAR imagery with the objective to detect anomalies (i.e. provide a tip) and once such an anomaly, in the form of a significant increase in the RVI and change detection on the low-resolution SAR data, was detected, Planet medium and high-resolution optical imagery were cued in order to gain visual confirmation of the activity and deployment of assets in the region.
This is an excellent example of how SpaceKnow, through its proprietary analytics platform and AI/ML algorithms, provides its customers with the ability to set up and conduct long-term automated monitoring of a large number of locations in a very efficient and low-cost manner.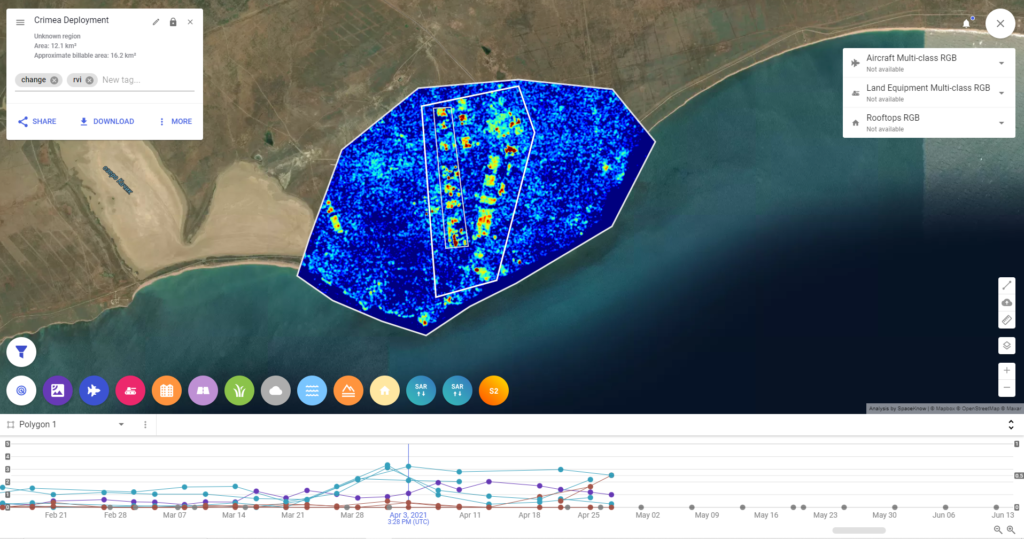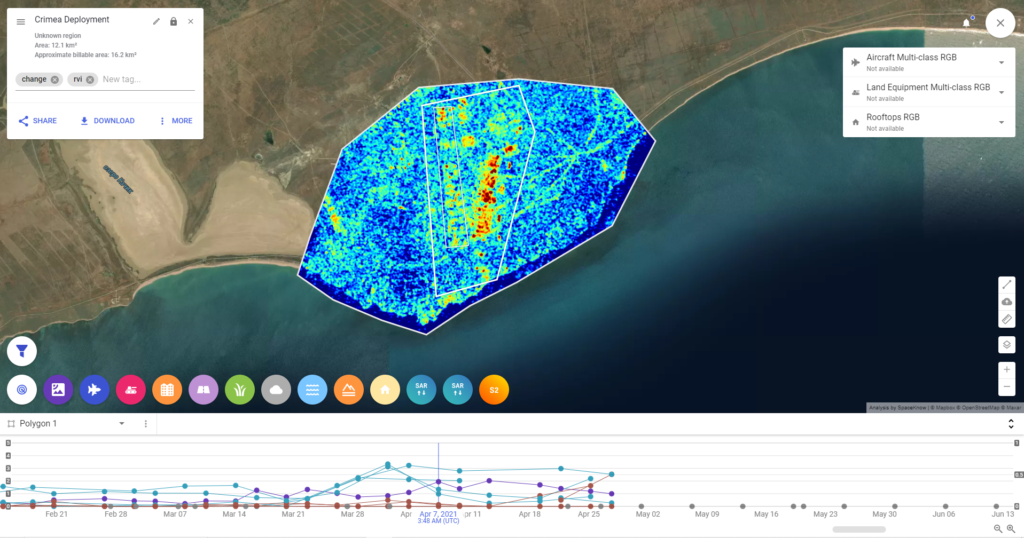 Conclusion
We believe the utilization of low and medium-resolution SAR and optical imagery and application of AI/ML algorithms is a perfect solution to monitor a large number of diverse locations over longer periods of time, provide alerts about unusual activities and detect potential new areas of military activity. SpaceKnow's method gives the customer an efficient and economical way of continuous monitoring. Resources can then be utilized to obtain high-resolution optical and SAR data for further inspection and evaluation of the tips given by low and medium-resolution data.
If you are interested in learning more about our capabilities, please reach out for a meeting. We can showcase our solution in more detail and discuss your specific needs. We are confident that our state-of-the-art technology will not only increase the scope of your intelligence operations to monitor many areas automatically but also allow your analysts to focus on the more important tasks that require their unique skills.
Written by Jakub Broz on behalf of SpaceKnow.