April 28, 2023
Summary:
SpaceKnow indices can track production and inventory rises for electric vehicle companies such as Tesla. Look at the final graph and table to understand how SpaceKnow uses its data to understand inventory build-ups.
In more detail:

Tesla, one of the key electric vehicle makers in the world, recently announced record vehicle deliveries for the first quarter of 2023. However, it seems that the company's efforts to boost sales through price cuts have not yielded the desired results. In this article, we link Tesla's production with Spaceknow's satellite imagery analytics to show their predictive power and usefulness to those interested in the core parts of Tesla's business.
Spaceknow provides a range of daily indices based on satellite imagery. We divide Tesla's production facilities into several types of locations, including employee parking lots, areas where finished cars are located, and several indices on logistics and distribution. We also provide a regional breakdown, including US, EU, and Chinese locations. We've touched on Tesla's Shanghai Megafactory in one of our previous newsletters, where we reported on the impact of the COVID lockdowns. Figure 1 below shows the COVID lockdowns in the context of Tesla's global operations. Our Employee Parking Index, which tracks employee parking lots across all Tesla facilities globally, indicates that while the suspension of production in the Fremont factory in 2020 significantly impacted the company's overall performance, the lockdowns in Shanghai two years later had a comparatively lesser impact. This observation demonstrates the extensive growth that Tesla has undergone in recent years.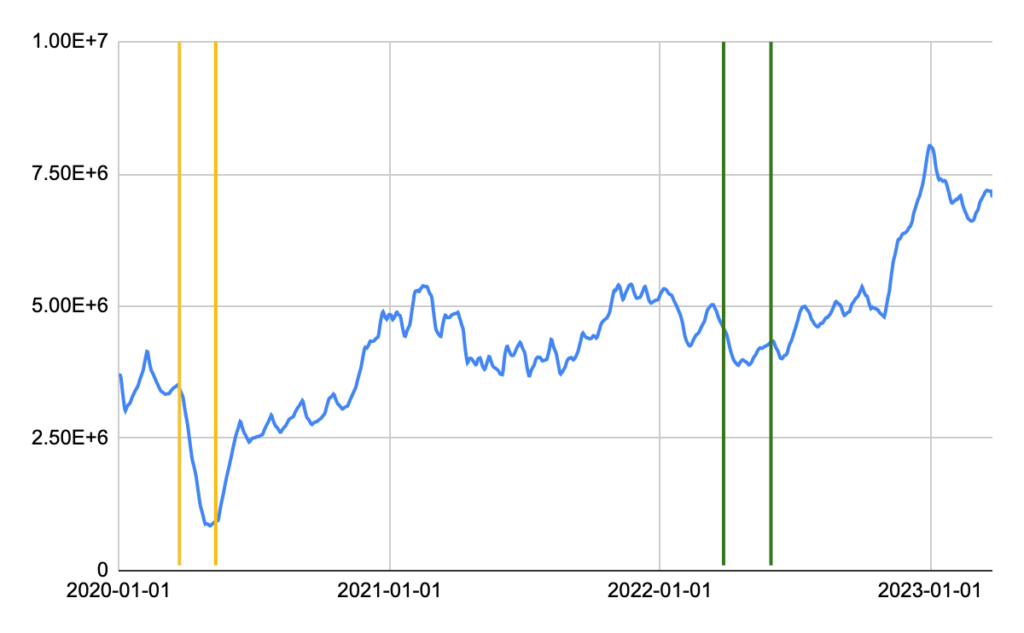 Tesla's Q1 2023 earnings report shows a drop in net income of 24% from the previous year. The company cites underutilization of new factories, higher raw material, commodity, logistics and warranty costs, and lower revenue from environmental credits as reasons for the decline. Despite the drop in earnings, Tesla's total revenue rose 24% and its core segment, automotive revenue, increased by 18%. CEO Elon Musk emphasized the impact of the uncertain macroeconomic environment on car-shopping plans and warned of the equivalent effect of interest rate hikes on car prices. He expects Tesla vehicles to generate significant profits through autonomy and stated that the company is pushing for higher volumes and a larger fleet, rather than a lower volume and higher margin.
The company has big plans for the future. It plans to establish a factory in Monterrey, Mexico, and to build Megapacks, large lithium-ion battery-based energy storage systems, in Shanghai. CEO Musk is confident in the company's ability to scale up production to meet demand; he expects Tesla to produce 1.8 million vehicles in 2023, with the possibility of producing an "upside" volume of 2 million vehicles this year. The company's stock has rebounded from its 2022 losses, gaining 48% this year. However, Tesla faces challenges such as reduced environmental credit revenue, increased costs, and an uncertain macroeconomic environment that may impact its future earnings.
Analyzing Tesla's global production, we see a comparison of Tesla's quarterly production with Spaceknow's logistics index that tracks trucks bringing supplies used for building the cars in Tesla's factories. We can see that our index and Tesla's figures are strongly correlated. Our index rises strongly especially after 2020, illustrating the rise of the company and the EV business as a whole.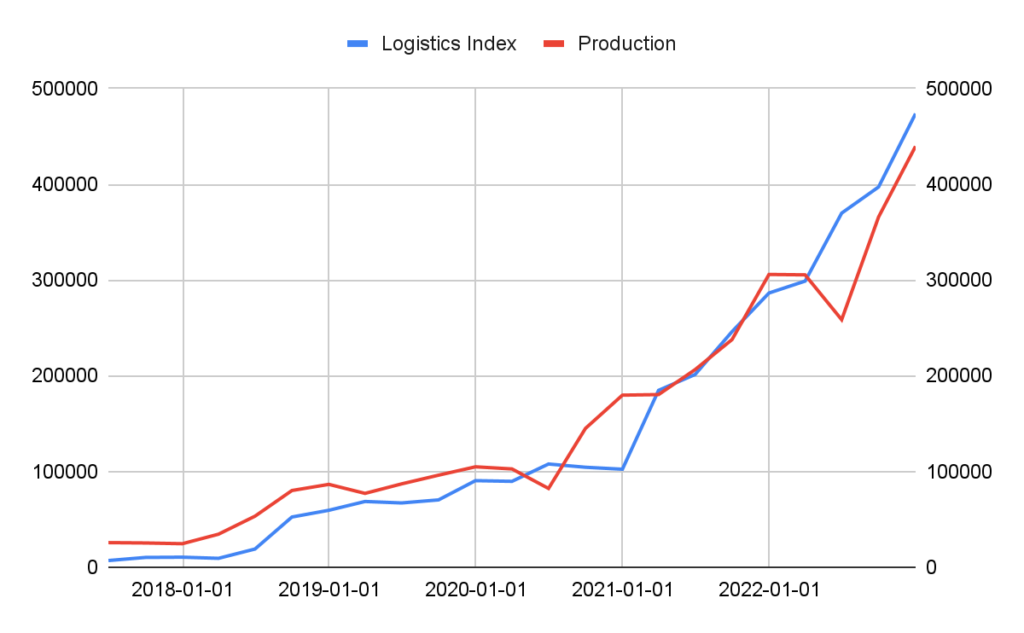 Despite record numbers in Q1 2023, there has been a growing concern about Tesla's increasing stock of inventories. Tesla, known for its strict no-discount policy, has been offering discounts on its electric vehicles in several markets, including Australia, South Korea, and Japan, which is unusual for the company at the start of a new quarter. Tesla's inventory is usually low in most markets early in a quarter, but due to a 50,000-vehicle discrepancy between vehicles produced and vehicles delivered over the last two quarters, Tesla has had some inventory build-ups.
Figure 3 below provides further insights into Tesla's growing inventories using Spaceknow indices. The Product index, which monitors finished cars before delivery, continues to rise despite production leveling off in the last quarter, indicating a growing inventory of unsold cars. Additionally, a comparison of the Product Distribution index and Product index shows that while these indices typically go hand-in-hand, the product has been growing faster than distribution. The Product Distribution index, which tracks activity in areas where the cars are loaded onto trucks and transported away, rose by around 6 percent in the last quarter, while the Product index shot up by more than 60 percent. This suggests that distribution is lagging, and finished cars are piling up in Tesla's parking lots.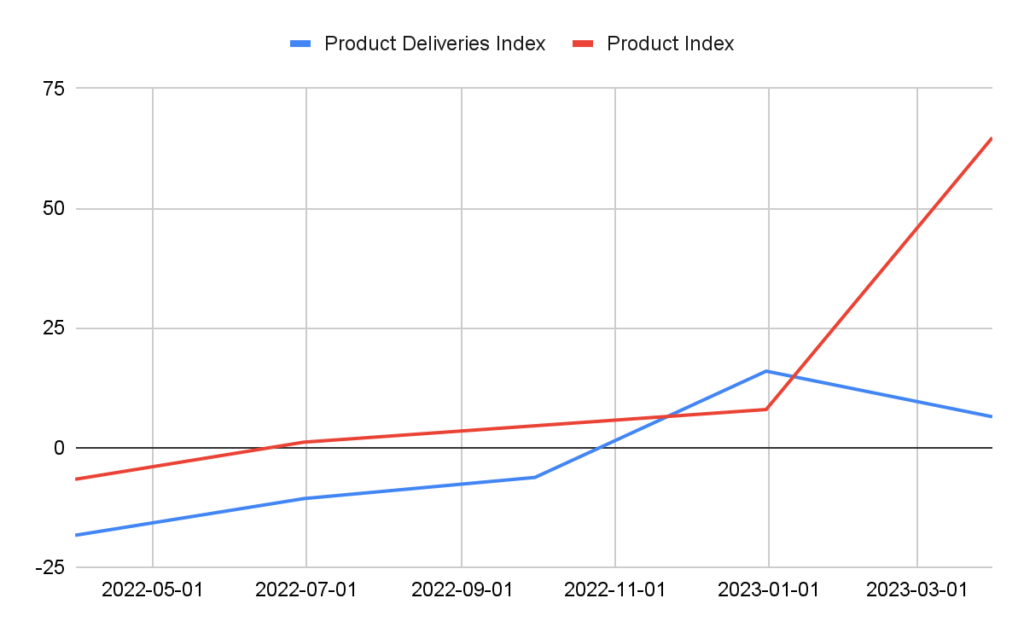 | | | |
| --- | --- | --- |
| | Product Distribution QoQ Percentage | Product QoQ Percentage |
| 2022-03-31 | -18.33 | -6.63 |
| 2022-06-30 | -10.66 | 1.13 |
| 2022-09-30 | -6.23 | 4.55 |
| 2022-12-31 | 15.96 | 7.95 |
| 2023-03-31 | 6.44 | 64.76 |
Tesla is a dynamic company that catches a lot of attention and has been undergoing rapid expansion. Spaceknow continues to develop and improve our Tesla indices on Tesla to deliver better insights into the company's operations.
Thank you for reading, did you find value in this article? Share it with a friend or colleague.
Did you know we also monitor these companies and more? Reach out to the sales team to get all the details: insights@spaceknow.com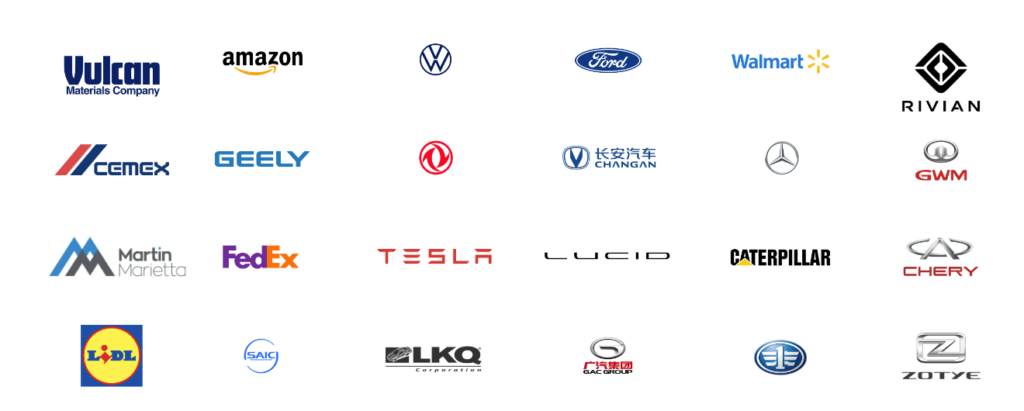 Disclaimer
This report is provided by SpaceKnow, Inc. ("SpaceKnow") pursuant to the following terms and conditions:
Industry data and reports published by SpaceKnow ("SpaceKnow Reports") and made available to paid subscribers and/or other recipients (collectively "Recipients") are creative works of the mind achieved through algorithmic analysis of publicly available data and the information therein is proprietary to SpaceKnow and protected by copyright. Any copying, distribution or reproduction without the prior permission of SpaceKnow is strictly prohibited.
SpaceKnow Reports are confidential and nothing therein may be disclosed, reproduced, transmitted, distributed, sold, licensed, or altered, in whole or in part, without SpaceKnow's prior written consent. SpaceKnow reserves the right to release to the public at any time the data and reports provided to Recipients. No rights in SpaceKnow Reports or any of the information contained therein are transferred to Recipients. Any misappropriation or misuse of the information in SpaceKnow Reports will cause serious damage to SpaceKnow and money damages may not constitute sufficient compensation to SpaceKnow; consequently, Recipients agree that in the event of any misappropriation or misuse, SpaceKnow shall have the right to obtain injunctive relief in addition to any other legal or financial remedies to which SpaceKnow may be entitled.
SpaceKnow Reports are based only upon its algorithmic analysis of publicly available data and do not use or rely upon any material non-public information ("MNPI"). The insights included in SpaceKnow Reports do not constitute MNPI or inside information and SpaceKnow is not an insider. SpaceKnow Reports (1) may contain opinions based on third party sources that are not independently verified for accuracy or completeness, (2) may contain forward- looking statements, which are identified by words such as "expects," "anticipates," "believes," or "estimates," and similar expressions, and (3) are current as of the date of publication but may contain information or statements that are subject to change without notice. SpaceKnow has no obligation to, and will not, update any information contained in SpaceKnow Reports. Actual outcomes could differ materially from those anticipated in SpaceKnow Reports. As a result, the use of SpaceKnow Reports is at Recipients' own risk.
SpaceKnow and its owners, affiliates and representatives are not (1) investment advisers, commodity trading advisers, broker-dealers, financial analysts, financial planners, or banks, (2) compensated for providing investment advice, (3) registered or licensed with any regulatory body in any jurisdiction as investment advisers, commodity trading advisers, financial planners, broker-dealers, or in any other capacity (including, without limitation, the U.S. Securities & Exchange Commission (the "SEC"), the U.S. Commodity Futures Trading Commission (the "CFTC"), the U.S. Financial Regulatory Authority ("FINRA"), or their equivalents in non- U.S. jurisdictions), and do not recommend the sale or purchase of securities or commodity interests, or (4) licensed or able to provide investment advice or respond to individual requests for recommendations to purchase or sell any securities or commodity interests. No regulatory body in any jurisdiction (including the SEC, CFTC, FINRA, or a regulatory body of any state or any non-U.S. jurisdiction) has endorsed SpaceKnow or the contents of SpaceKnow Reports or the accuracy, adequacy, safety, reliability, usefulness, quality or legitimacy of any information provided to subscribers in SpaceKnowReports. SpaceKnow Reports are not intended to constitute investment advice. SpaceKnow is not an investment adviser within the meaning of Section 202(a)(11) of the U.S. Investment Advisers Act of 1940, as amended, and is not a commodity trading adviser within the meaning of Section 1(a)(12) of the U.S. Commodity Exchange Act. SpaceKnow does not provide investment advisory, portfolio management or financial planning services. The analyses, forecasts, metrics, samples, estimated figures, trends, figures, tables, graphs, projections and other forms of data that may be contained in SpaceKnow Reports do not represent or contain any recommendations to buy or sell any security or any financial products and should not be relied upon as the basis for any transactions in securities.
SpaceKnow Reports are for informational, promotional, educational or evaluation purposes only. Any information contained in SpaceKnow Reports constitutes the opinion or forward-looking statement of individuals and is provided without any representation or warranty of any kind. Neither SpaceKnow nor its directors, officers, employees, agents or representatives shall have any responsibility to you or any third party for the accuracy or completeness of any information provided in any SpaceKnow Report.
Should you have any questions, please contact us at SKNowcastingSolutions@spaceknow.com.