Summary: SpaceKnow's data can be used to track attendance in theme parks. Here we look at Disney's parks in Florida to see if there has been any impact from the current conflicts between the company and the state government.
In more detail:
Walt Disney Co has announced impressive financial results for the quarter, showcasing a 13% increase in earnings to reach a substantial $21.8 billion. The company's Parks, Experiences, and Products division played a significant role in driving this success, with profits soaring by 20% to $2.2 billion.
The international parks played a significant role in driving this success, with exceptional performance in Shanghai, Hong Kong, and Paris. During the earnings call, CEO Bob Iger highlighted ongoing expansions in international locations that will not only boost park capacity but also contribute to long-term growth.
Spaceknow provides a range of daily indices based on satellite imagery tracking the Disney parks. We look at all the parking lots and distinguish between visitor, employee parking and hotel parking. Below,  we graph the  Spaceknow index against overall revenues in Disney parks.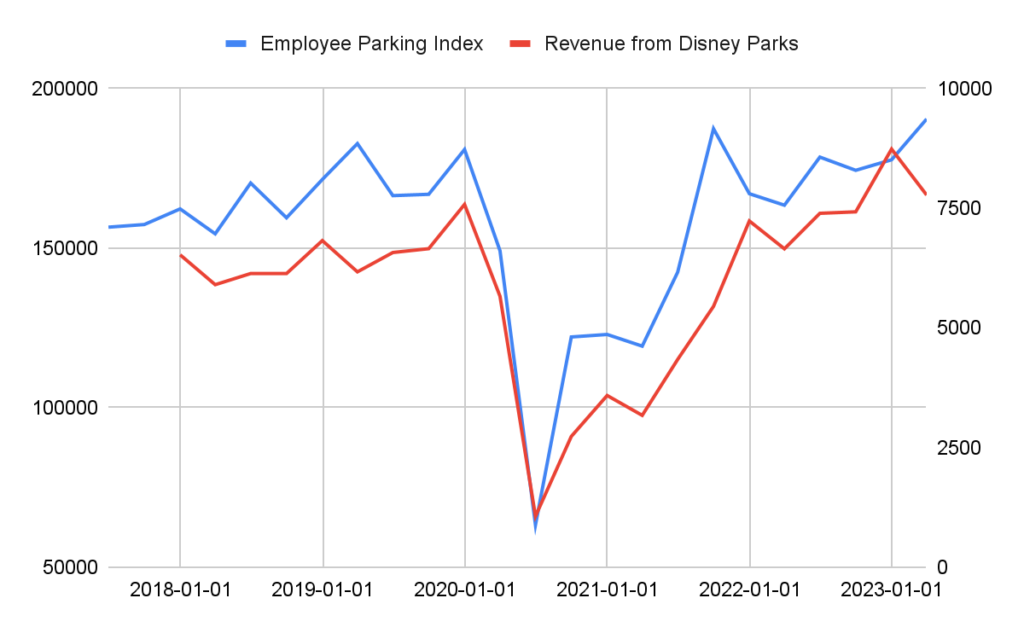 Amidst these positive developments in the theme parks business, Walt Disney Co finds itself in the middle of a dispute with Florida's Governor Ron DeSantis. This ongoing conflict has led to a legal battle between Disney and the state, with implications for the company's self-governing authority in the region. The dispute unfolds at a time when Disney's parks are bouncing back from the pandemic and displaying promising growth potential, both domestically and internationally. The figure below presents a comparison of the Spaceknow visitor's parking index for three years at Disney's Florida location. This index reflects the number of cars parked in visitor parking lots and serves as a reliable indicator of park attendance. Although the 2022 figures remain below those of the pre-COVID year in 2019, the first quarter of 2023 shows promising signs, with attendance levels reaching or surpassing those of 2019. This indicates that despite the dispute with DeSantis, Disney continues to thrive in terms of visitor numbers, highlighting positive performance in key metrics.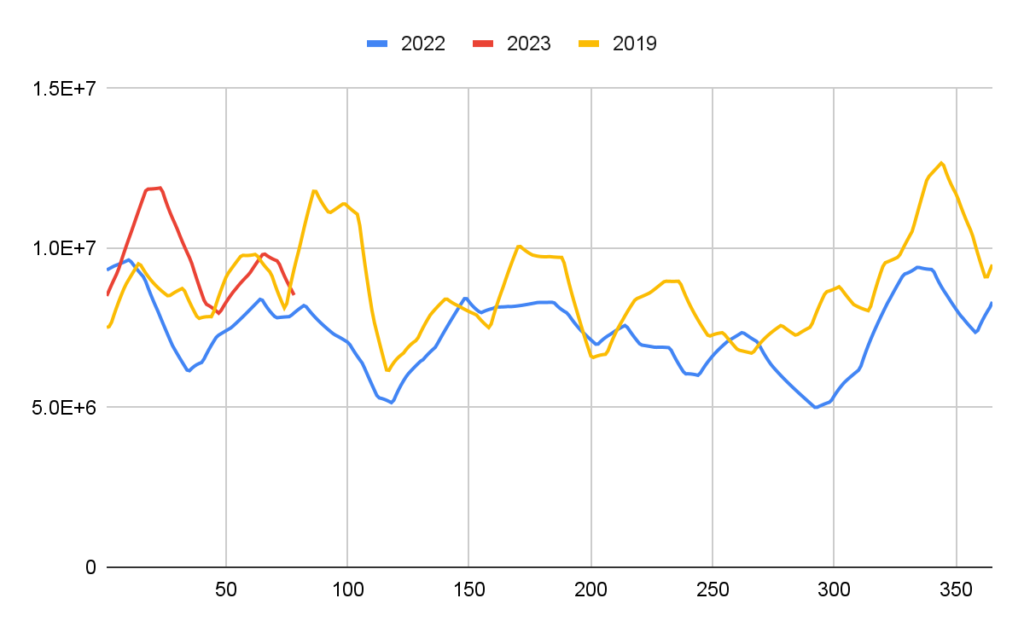 Spaceknow has a diverse portfolio of entertainment companies, which includes industry giants like SeaWorld, Cedar Fair, and Six Flags. Below, we graph data for Seaworld (Ticker: SEAS). The following plots highlight two crucial aspects of theme park performance: pronounced seasonality and the notable influence of COVID-related restrictions. Our data accurately captures these patterns. While Spaceknow indices excel in measuring attendance, a fundamental indicator of activity, they can also effectively align with financial metrics such as net profits, even in the face of considerable inflation that may introduce divergence between these two measures.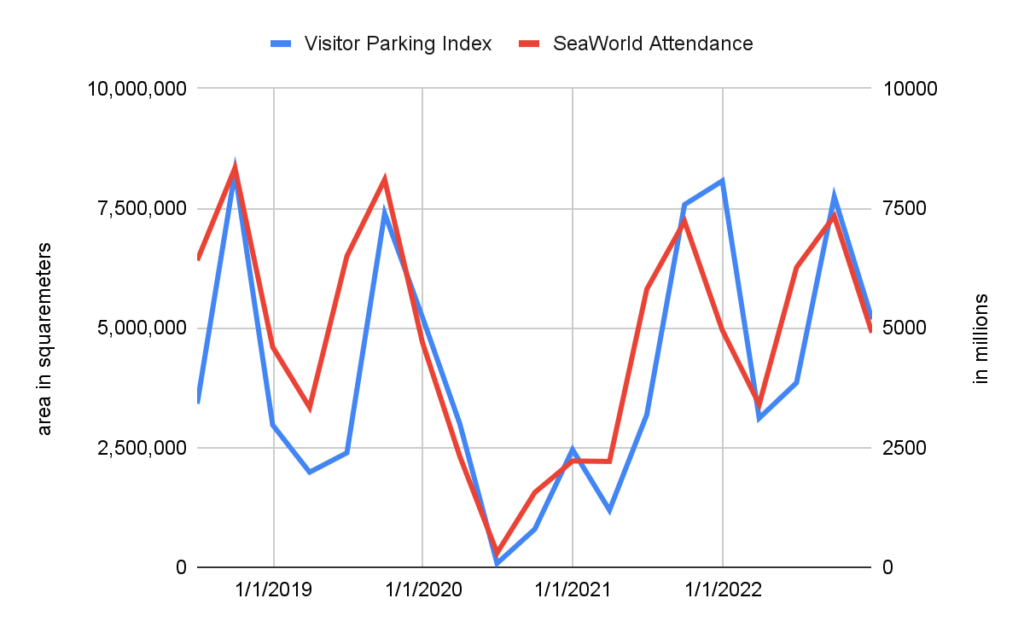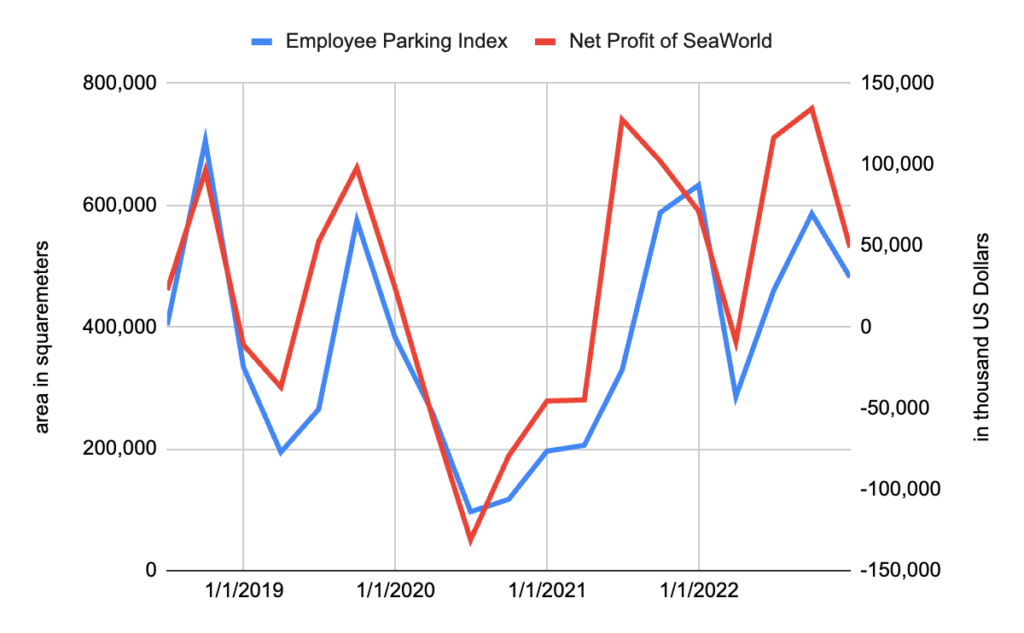 Thank you for reading, did you find value in this article? Share it with a friend or a colleague.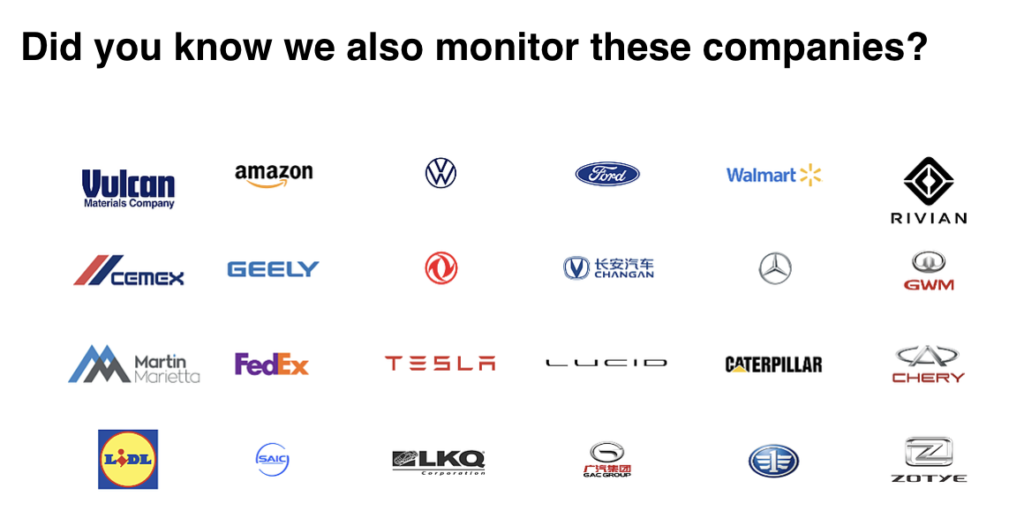 Client Support
Each client is assigned an account representative who will reach out periodically to make sure that the data packages are meeting your needs. Here are some other ways to contact SpaceKnow in case you have a specific question.
For delivery questions and issues:
Please reach out to support@spaceknow.com
For data questions:
Please reach out to info@spaceknow.com
For pricing/sales support:
Please reach out to info@spaceknow.com or sales@spaceknow.com
Disclaimer
This report is provided by SpaceKnow, Inc. ("SpaceKnow") pursuant to the following terms and conditions:
Industry data and reports published by SpaceKnow ("SpaceKnow Reports") and made available to paid subscribers and/or other recipients (collectively "Recipients") are creative works of the mind achieved through algorithmic analysis of publicly available data and the information therein is proprietary to SpaceKnow and protected by copyright. Any copying, distribution or reproduction without the prior permission of SpaceKnow is strictly prohibited.
SpaceKnow Reports are confidential and nothing therein may be disclosed, reproduced, transmitted, distributed, sold, licensed, or altered, in whole or in part, without SpaceKnow's prior written consent. SpaceKnow reserves the right to release to the public at any time the data and reports provided to Recipients. No rights in SpaceKnow Reports or any of the information contained therein are transferred to Recipients. Any misappropriation or misuse of the information in SpaceKnow Reports will cause serious damage to SpaceKnow and money damages may not constitute sufficient compensation to SpaceKnow; consequently, Recipients agree that in the event of any misappropriation or misuse, SpaceKnow shall have the right to obtain injunctive relief in addition to any other legal or financial remedies to which SpaceKnow may be entitled.
SpaceKnow Reports are based only upon its algorithmic analysis of publicly available data and do not use or rely upon any material non-public information ("MNPI"). The insights included in SpaceKnow Reports do not constitute MNPI or inside information and SpaceKnow is not an insider. SpaceKnow Reports (1) may contain opinions based on third party sources that are not independently verified for accuracy or completeness, (2) may contain forward- looking statements, which are identified by words such as "expects," "anticipates," "believes," or "estimates," and similar expressions, and (3) are current as of the date of publication but may contain information or statements that are subject to change without notice. SpaceKnow has no obligation to, and will not, update any information contained in SpaceKnow Reports. Actual outcomes could differ materially from those anticipated in SpaceKnow Reports. As a result, the use of SpaceKnow Reports is at Recipients' own risk.
SpaceKnow and its owners, affiliates and representatives are not (1) investment advisers, commodity trading advisers, broker-dealers, financial analysts, financial planners, or banks, (2) compensated for providing investment advice, (3) registered or licensed with any regulatory body in any jurisdiction as investment advisers, commodity trading advisers, financial planners, broker-dealers, or in any other capacity (including, without limitation, the U.S. Securities & Exchange Commission (the "SEC"), the U.S. Commodity Futures Trading Commission (the "CFTC"), the U.S. Financial Regulatory Authority ("FINRA"), or their equivalents in non- U.S. jurisdictions), and do not recommend the sale or purchase of securities or commodity interests, or (4) licensed or able to provide investment advice or respond to individual requests for recommendations to purchase or sell any securities or commodity interests. No regulatory body in any jurisdiction (including the SEC, CFTC, FINRA, or a regulatory body of any state or any non-U.S. jurisdiction) has endorsed SpaceKnow or the contents of SpaceKnow Reports or the accuracy, adequacy, safety, reliability, usefulness, quality or legitimacy of any information provided to subscribers in SpaceKnowReports. SpaceKnow Reports are not intended to constitute investment advice. SpaceKnow is not an investment adviser within the meaning of Section 202(a)(11) of the U.S. Investment Advisers Act of 1940, as amended, and is not a commodity trading adviser within the meaning of Section 1(a)(12) of the U.S. Commodity Exchange Act. SpaceKnow does not provide investment advisory, portfolio management or financial planning services. The analyses, forecasts, metrics, samples, estimated figures, trends, figures, tables, graphs, projections and other forms of data that may be contained in SpaceKnow Reports do not represent or contain any recommendations to buy or sell any security or any financial products and should not be relied upon as the basis for any transactions in securities.
SpaceKnow Reports are for informational, promotional, educational or evaluation purposes only. Any information contained in SpaceKnow Reports constitutes the opinion or forward-looking statement of individuals and is provided without any representation or warranty of any kind. Neither SpaceKnow nor its directors, officers, employees, agents or representatives shall have any responsibility to you or any third party for the accuracy or completeness of any information provided in any SpaceKnow Report.
Should you have any questions, please contact us at SKNowcastingSolutions@spaceknow.com.