SpaceKnow's indices suggest that so far, Amazon's activity heading into the all-important Black Friday and Christmas spending season has been lackluster.
Amazon has a strong and growing presence in the US, which makes it an important indicator for retail sales. SpaceKnow indices play a leading role in exploring supply chain movements of the company by tracking activity at its distribution centers. We can observe how the company operations are performing in near-real time and understand how Amazon prepared for Black Friday and the Christmas season.
Recently, Amazon released its Q3 financial results and Q4 expectations. Amazon's Q4 expectations were significantly affected by uncertainty in the economic environment. Amazon's net sales are expected to grow between 2% and 8% YoY in the fourth quarter, well below levels in the last two years. Inflation has a significant impact on the retail sector. All else equal, high inflation levels will cause a slowdown in net sales in the fourth quarter.

SpaceKnow's Amazon Accumulated Level Index (non-seasonally adjusted) for the U.S. tracks Amazon logistic centers. The number of locations are updated as the company opens or closes locations. Figure 1 shows that the growth rate of activity in Amazon Logistic Centers has decreased in time and it moves in line with the sales revenues of the company. We expect this to continue in the upcoming months.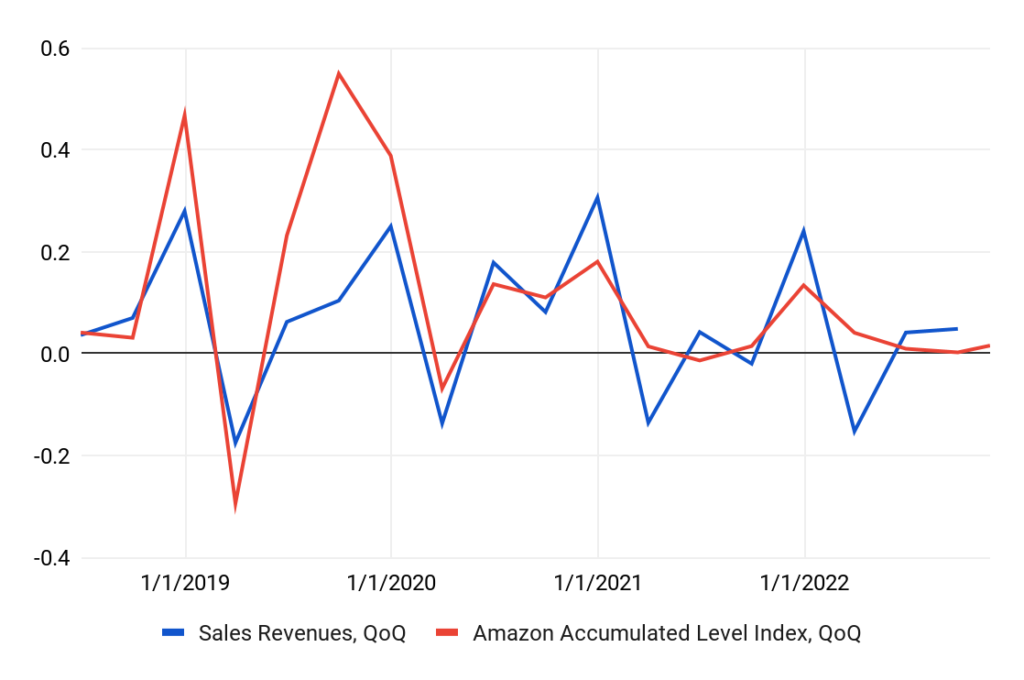 Figure 2 estimates the activity change from September 1st to November 26th for the years 2017 – 2022. Here, we look at accumulated activity over 30 days on September 1st and compare it to accumulated activity over 30 days on November 26th for each year. We observed that the indices are losing momentum over the years. The company's activities grew by 3% during the mentioned period in 2022 while it grew 11% in 2021 and 17% in 2020.
Amazon's rate of change in Figure 2 is slowing for many reasons: higher sales levels as it becomes a mainstream provider, higher productivity levels at distribution centers, higher capacity as more centers were opened, changing consumer spending patterns, and slowing sales. However, this graph provides a nice snapshot of the issues the e-commerce giant is facing.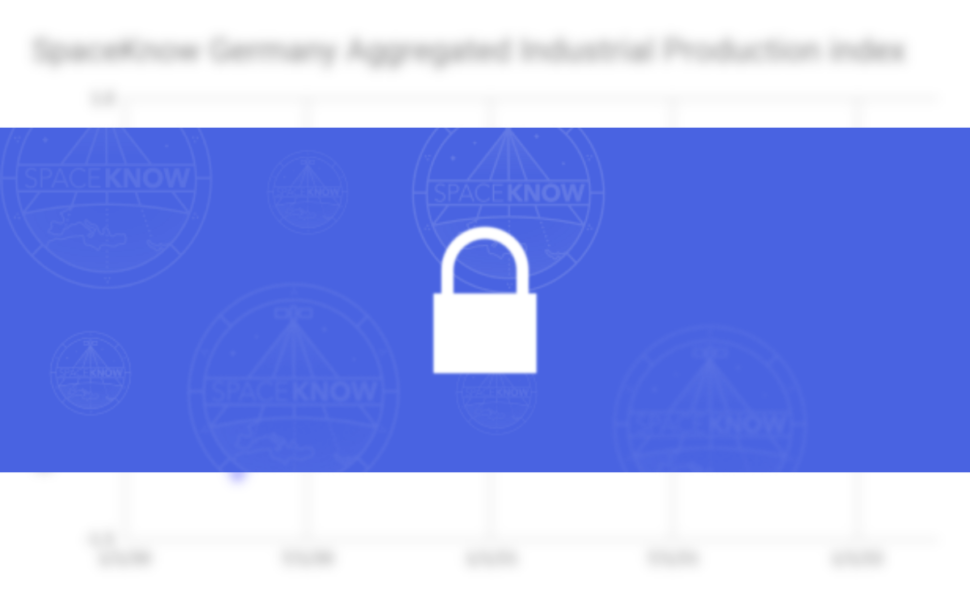 SpaceKnow's Amazon Change Index (non seasonally adjusted) for the U.S. covers logistic centers open since 2017, and it observes the change in the area covered by trucks in these logistic centers. The index gives insights about long-term trends.
Figure 3 shows that this index has been dropping over time. Each data point is the sum of activity that took place in the previous 90-days. Our last data point is from 11/26/2022 and covers the activity from 08/29/2022 – 11/26/2022. We observed that the company's logistic activities gained momentum since November and the last data point shows that the logistic activities in Q4 are showing some recovery during the last 3 months. However, the recovery remains muted compared to earlier this year.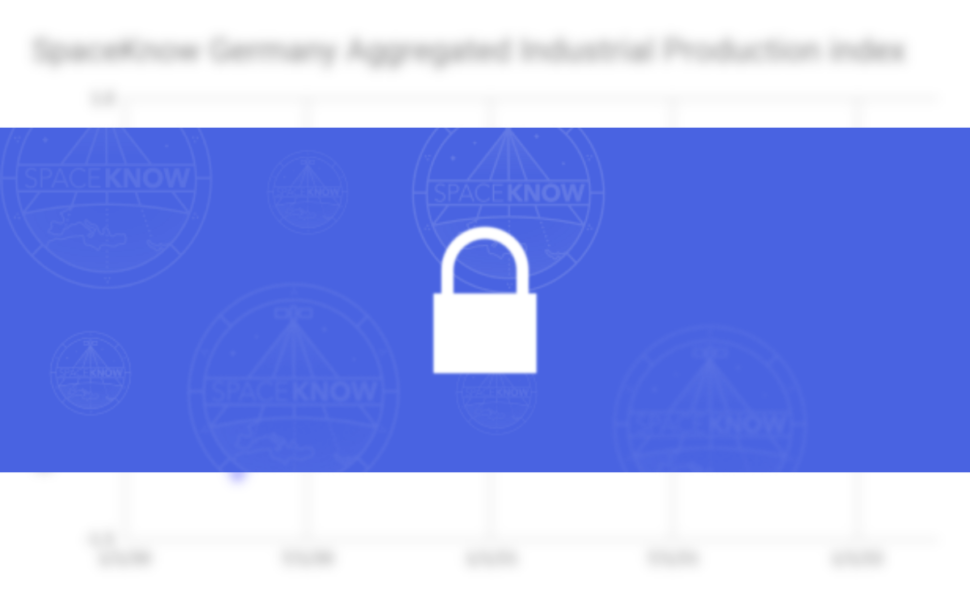 Amazon High Activity Index and Low Activity Index (ASI) show the percentage of Amazon logistic centers exhibiting high or low change in activity in the observed time period. If the Low Activity index is 15%, the interpretation is that 15% of Amazon logistic centers showed low change in activity during the selected time point.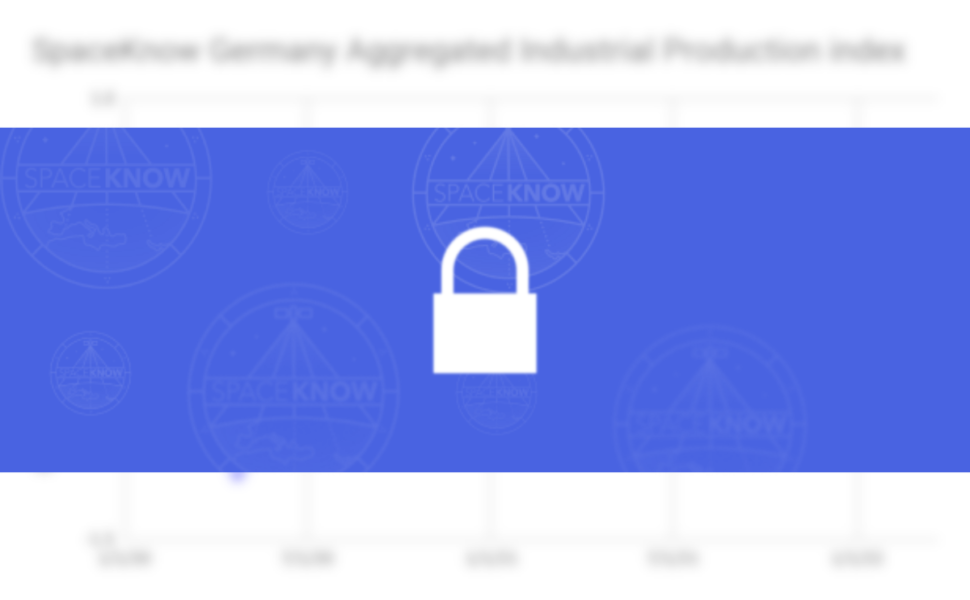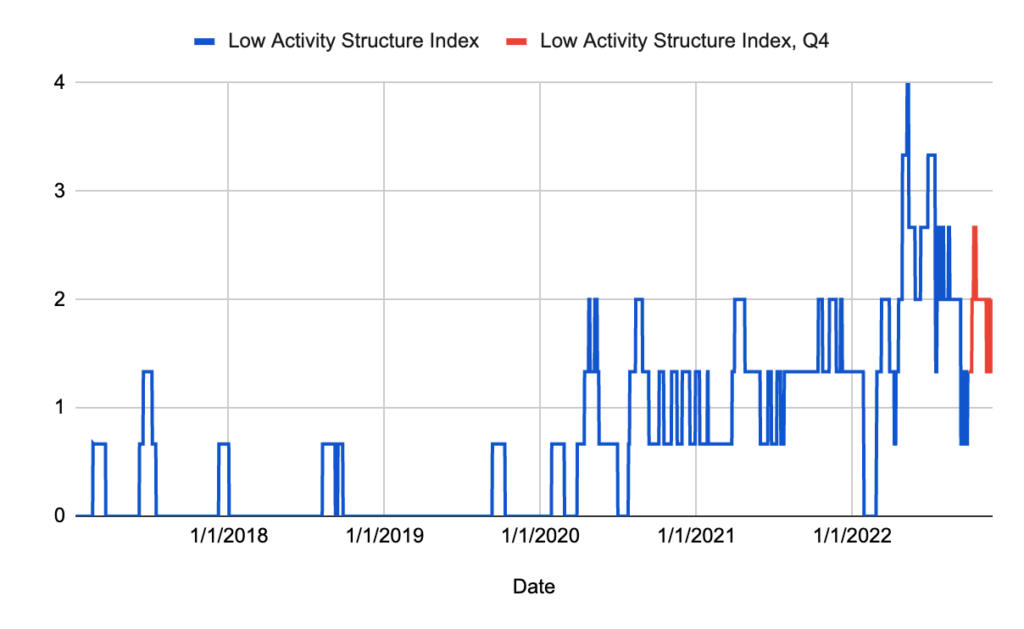 How do we expect this to impact the consumer?
Despite some momentum in Amazon heading into the Christmas season, our indices remained low and limited compared to the company's historical performance. As long as high inflation persists and energy prices continue to be a burden for the companies, we may expect to see a further decline in Amazon indices.
SpaceKnow's nowcasting products bring confidence and reduce risk to operations and investments around the world. Interested in learning more about SpaceKnow's commercial and nowcasting products? Reach out to info@spaceknow.com
Did you enjoy this article? Subscribe using this link, and be the first to receive the next SpaceKnow Nowcasting Newsletter (SNN).
SpaceKnow provides satellite activity data. We research and monitor hundreds of thousands of locations, spanning different industries, to create the world's most comprehensive activity datasets. Users can now gain a near-real-time, unbiased look at levels of activity for countries, companies, and commodities. Our customers include investors, traders, corporate strategists, economists, and governments.
Disclaimer
This report is provided by SpaceKnow, Inc. ("SpaceKnow") pursuant to the following terms and conditions:
Industry data and reports published by SpaceKnow ("SpaceKnow Reports") and made available to paid subscribers and/or other recipients (collectively "Recipients") are creative works of the mind achieved through algorithmic analysis of publicly available data and the information therein is proprietary to SpaceKnow and protected by copyright. Any copying, distribution or reproduction without the prior permission of SpaceKnow is strictly prohibited.
SpaceKnow Reports are confidential and nothing therein may be disclosed, reproduced, transmitted, distributed, sold, licensed, or altered, in whole or in part, without SpaceKnow's prior written consent. SpaceKnow reserves the right to release to the public at any time the data and reports provided to Recipients. No rights in SpaceKnow Reports or any of the information contained therein are transferred to Recipients. Any misappropriation or misuse of the information in SpaceKnow Reports will cause serious damage to SpaceKnow and money damages may not constitute sufficient compensation to SpaceKnow; consequently, Recipients agree that in the event of any misappropriation or misuse, SpaceKnow shall have the right to obtain injunctive relief in addition to any other legal or financial remedies to which SpaceKnow may be entitled.
SpaceKnow Reports are based only upon its algorithmic analysis of publicly available data and do not use or rely upon any material non-public information ("MNPI"). The insights included in SpaceKnow Reports do not constitute MNPI or inside information and SpaceKnow is not an insider. SpaceKnow Reports (1) may contain opinions based on third party sources that are not independently verified for accuracy or completeness, (2) may contain forward- looking statements, which are identified by words such as "expects," "anticipates," "believes," or "estimates," and similar expressions, and (3) are current as of the date of publication but may contain information or statements that are subject to change without notice. SpaceKnow has no obligation to, and will not, update any information contained in SpaceKnow Reports. Actual outcomes could differ materially from those anticipated in SpaceKnow Reports. As a result, the use of SpaceKnow Reports is at Recipients' own risk.
SpaceKnow and its owners, affiliates and representatives are not (1) investment advisers, commodity trading advisers, broker-dealers, financial analysts, financial planners, or banks, (2) compensated for providing investment advice, (3) registered or licensed with any regulatory body in any jurisdiction as investment advisers, commodity trading advisers, financial planners, broker-dealers, or in any other capacity (including, without limitation, the U.S. Securities & Exchange Commission (the "SEC"), the U.S. Commodity Futures Trading Commission (the "CFTC"), the U.S. Financial Regulatory Authority ("FINRA"), or their equivalents in non- U.S. jurisdictions), and do not recommend the sale or purchase of securities or commodity interests, or (4) licensed or able to provide investment advice or respond to individual requests for recommendations to purchase or sell any securities or commodity interests. No regulatory body in any jurisdiction (including the SEC, CFTC, FINRA, or a regulatory body of any state or any non-U.S. jurisdiction) has endorsed SpaceKnow or the contents of SpaceKnow Reports or the accuracy, adequacy, safety, reliability, usefulness, quality or legitimacy of any information provided to subscribers in SpaceKnowReports. SpaceKnow Reports are not intended to constitute investment advice. SpaceKnow is not an investment adviser within the meaning of Section 202(a)(11) of the U.S. Investment Advisers Act of 1940, as amended, and is not a commodity trading adviser within the meaning of Section 1(a)(12) of the U.S. Commodity Exchange Act. SpaceKnow does not provide investment advisory, portfolio management or financial planning services. The analyses, forecasts, metrics, samples, estimated figures, trends, figures, tables, graphs, projections and other forms of data that may be contained in SpaceKnow Reports do not represent or contain any recommendations to buy or sell any security or any financial products and should not be relied upon as the basis for any transactions in securities.
SpaceKnow Reports are for informational, promotional, educational or evaluation purposes only. Any information contained in SpaceKnow Reports constitutes the opinion or forward-looking statement of individuals and is provided without any representation or warranty of any kind. Neither SpaceKnow nor its directors, officers, employees, agents or representatives shall have any responsibility to you or any third party for the accuracy or completeness of any information provided in any SpaceKnow Report.